KDLITKER P6-TRI Triple XP-E P60 Dropin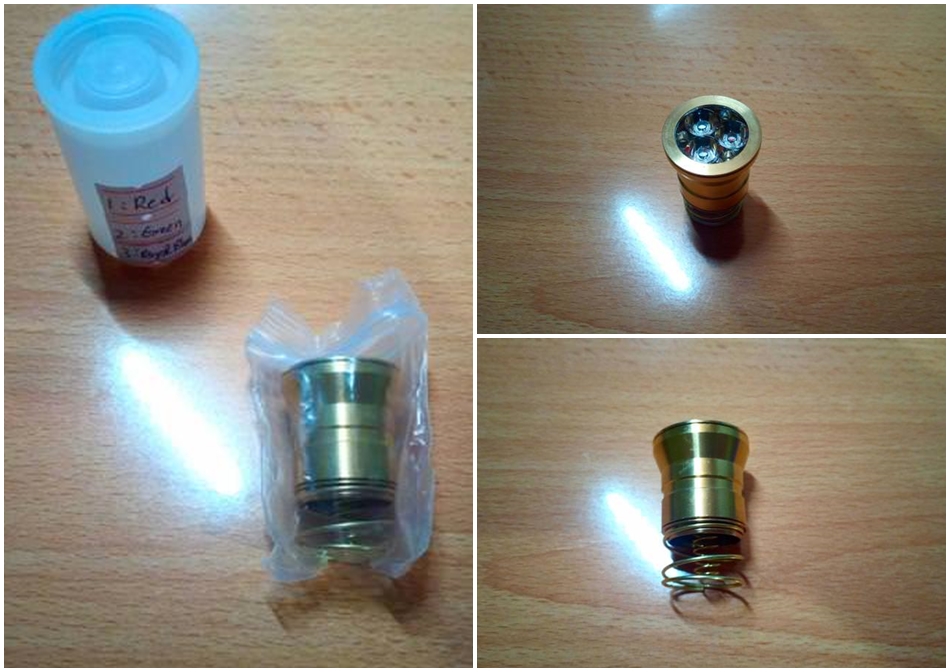 25 October, 2018
The dropin was sent to me by Kaidomain for review.

The product comes in a simple film canister.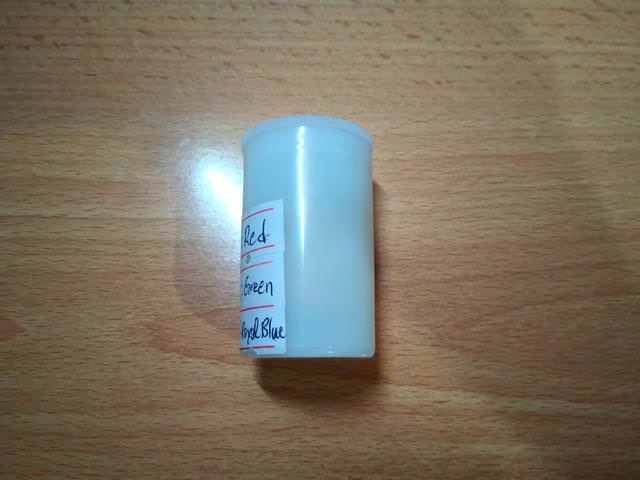 The dropin is packaged in a resealable plastic bag.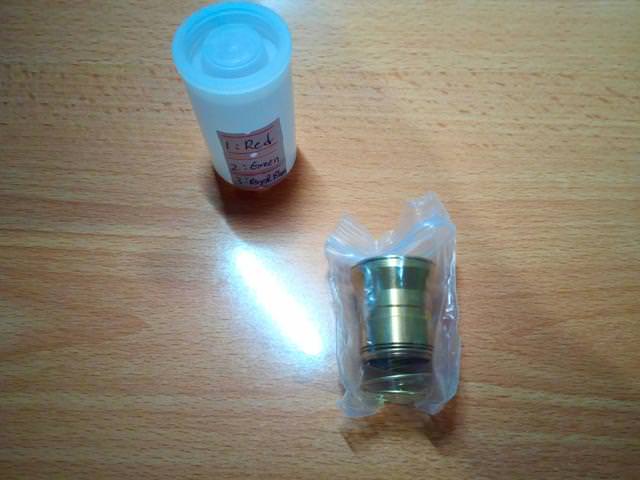 The dropin is quite unique.
It comes with an all brass construction and a triple TIR optic.
The manufacturer allows the user to individually select the installed XP-E emitters (White / Neutral White / Warm White / Red / Green / Blue / Amber / Royal Blue).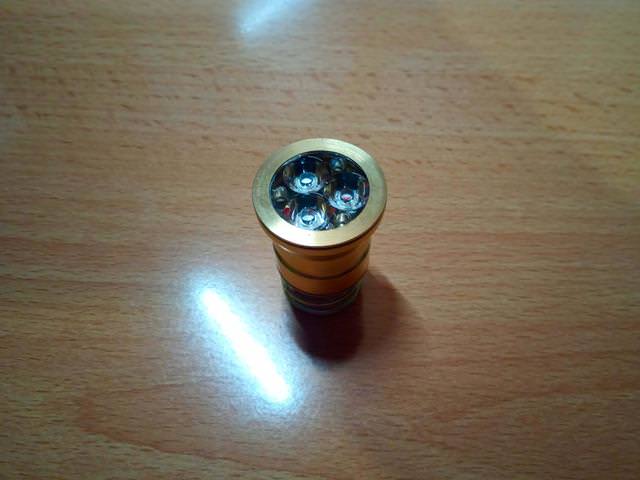 Overall, the dropin is nicely machined with no visual artifacts.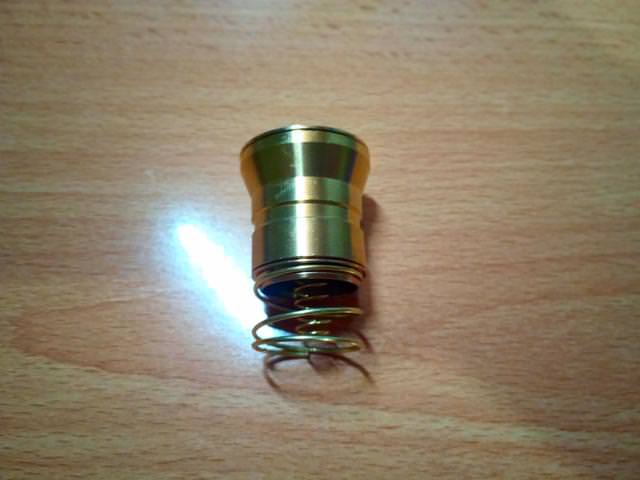 As with all P60 dropins, there is a dual spring design in order to ensure good +/- contact.
The driver contains 3 transistors - one for each individual channel.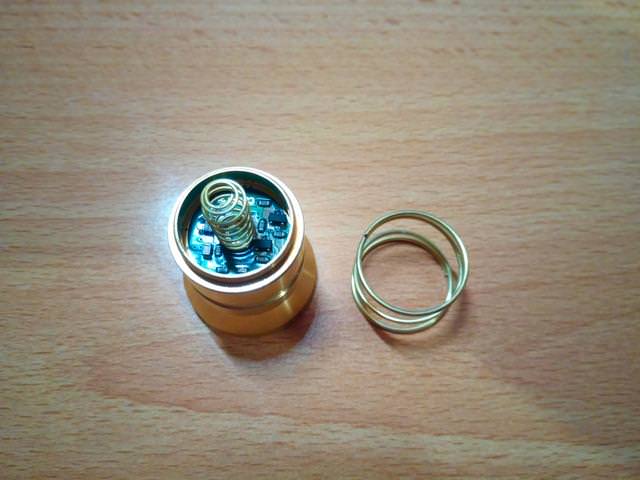 The driver is held in place by a retaining ring.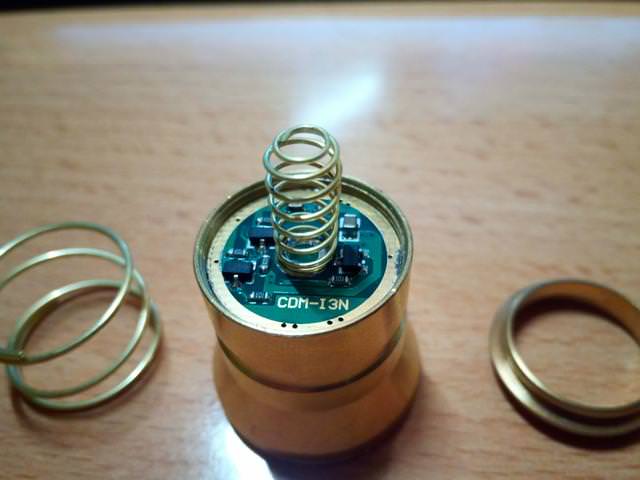 There is also a retaining ring in the front of the dropin.
By removing it, the user has access to the triple TIR lens and the triple XP-E board.
Notice that my color choices were: Royal Blue, Green, Red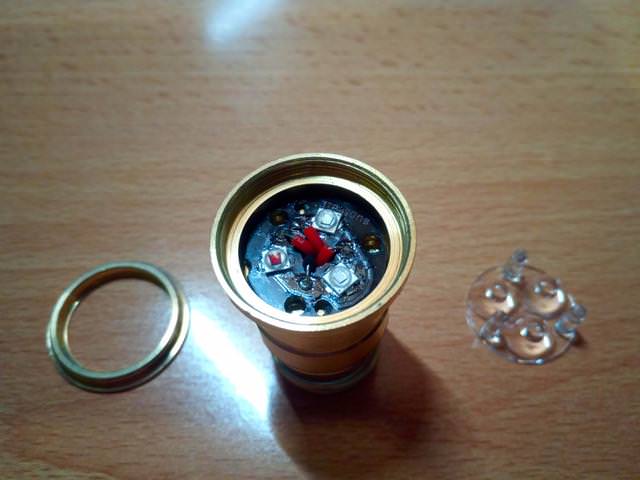 User Interface


The dropin has a basic UI with mode memory.
A tap initiates a mode change which follows this pattern:
LED1 (High) > LED1 (Low) > LED2 (High) > LED2 (Low) > LED3 (High) > LED3 (Low)


The cutoff voltage is set at 2.7V, while the emitters start blinking from 2.9V and downwards.
Unfortunately, the driver can't run on all three channels simultaneously, so only one emitter can be lit up.


Performance


I used my RDTech DPS5020 PSU to precisely measure the current draw of each mode.
Here's my results.


Royal Blue (High): 1.21A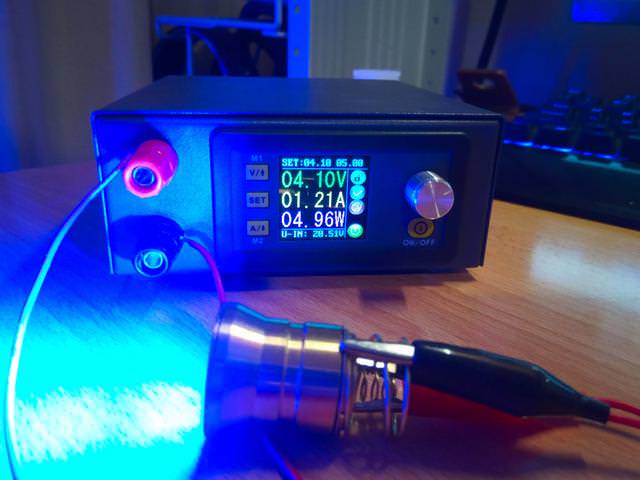 Royal Blue (Low): 0.02A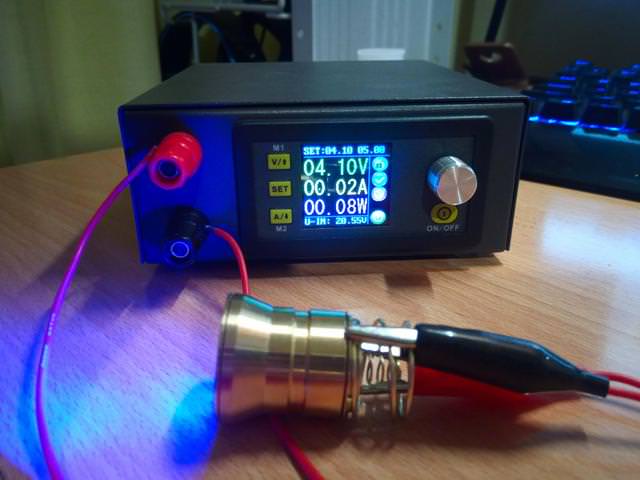 Green (High): 1.26A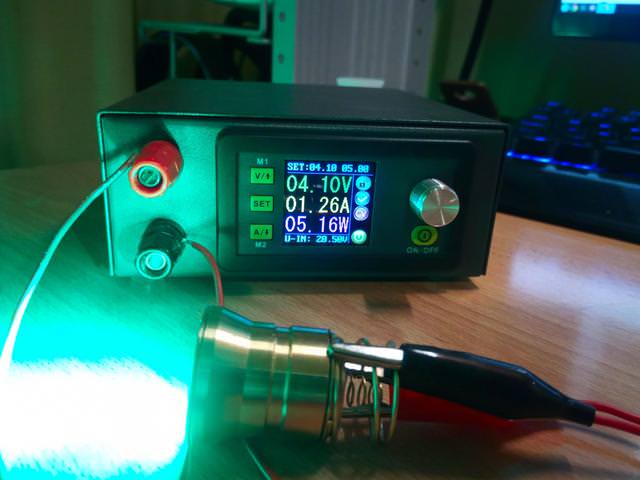 Green (Low): 0.02A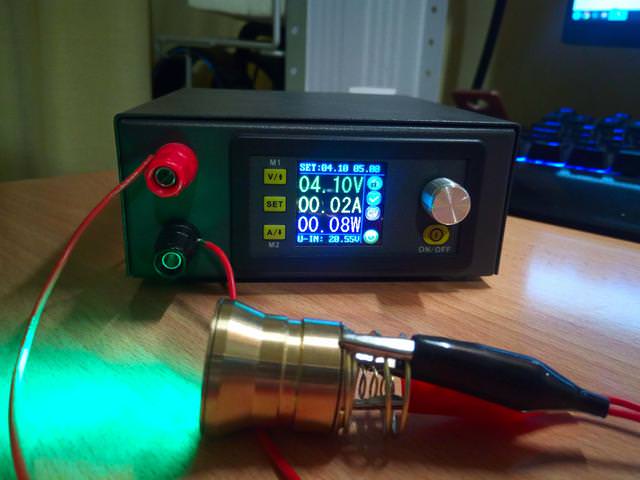 Red (High): 1.20A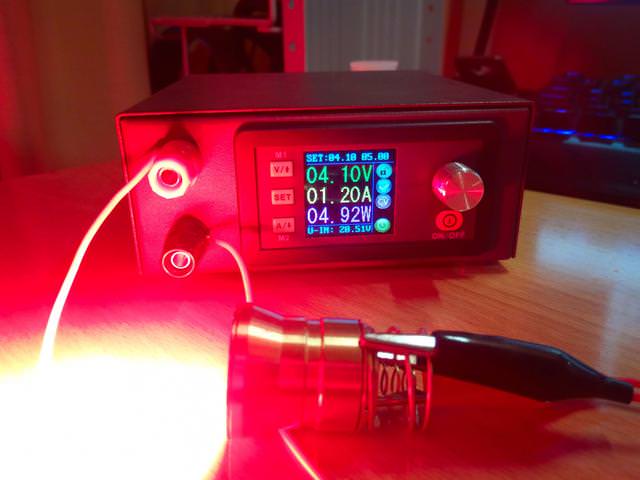 Red (Low): 0.04A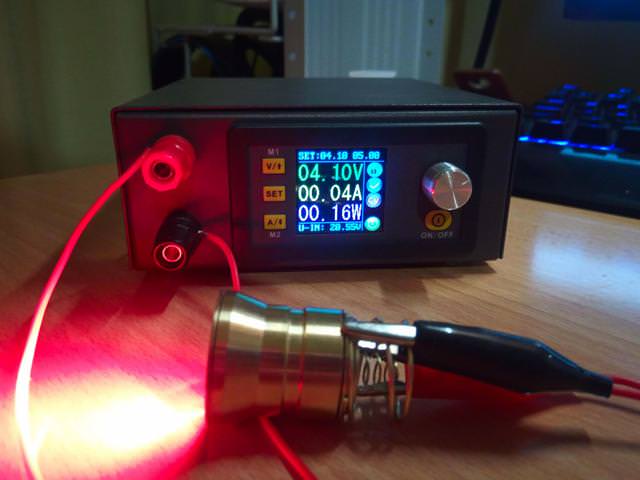 The manufacturer's details indicate that the driver is Constant Current.



Unfortunately, my tests can't confirm the claims, at least with an 1S input.



Here's the Royal Blue emitter tested - though all of the emitters should follow the same curve :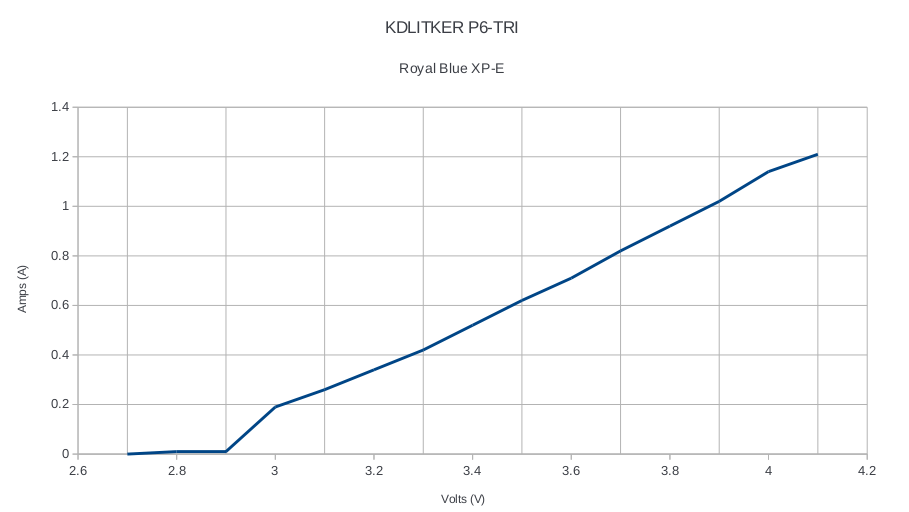 What's left to do is check the performance under 8.4V and see if CC is indeed existent at this voltage.


My tests should arrive shortly
Wall Beamshots


Thanks to the TIR lens, the dropin creates a uniform beam with a discrete hotspot.


Royal Blue (High)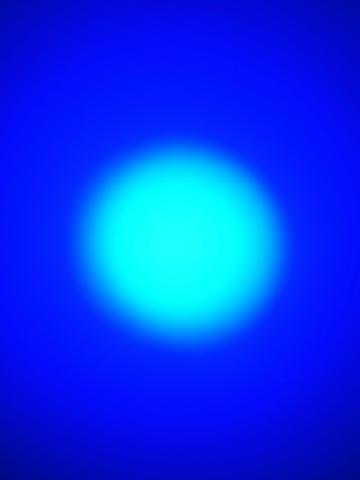 Green (High)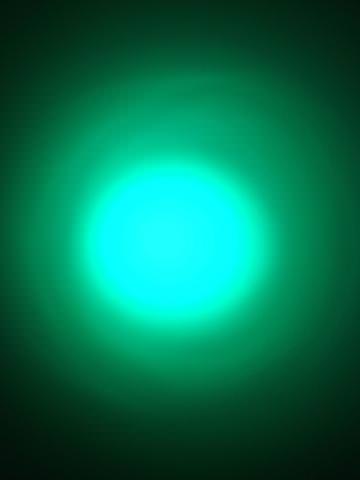 Red (High)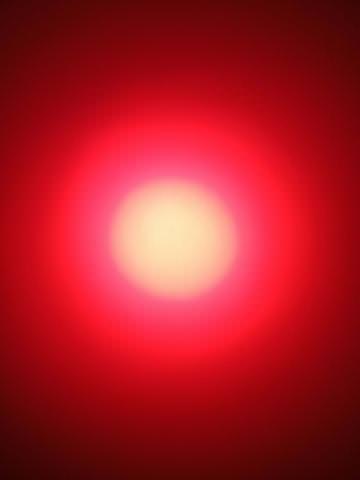 Overall the dropin is very good.


Its build quality ensures good thermal management and the user selectable XP-Es is what's making it stand out.


Though, I would like to see a driver that could pull a CC on an 1S input.
Reviewer: bilakos10 @ BLF