KDLITKER C8_2 , 1 x 18650 xhp50_2 flashlight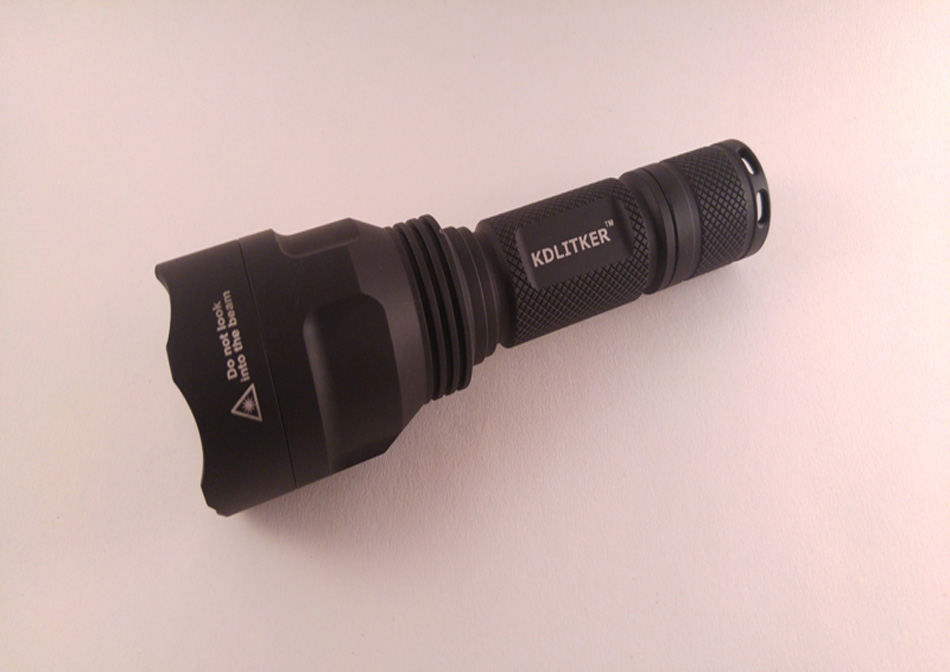 8 February, 2017
KDLITKER C8.2 XHP50.2 Review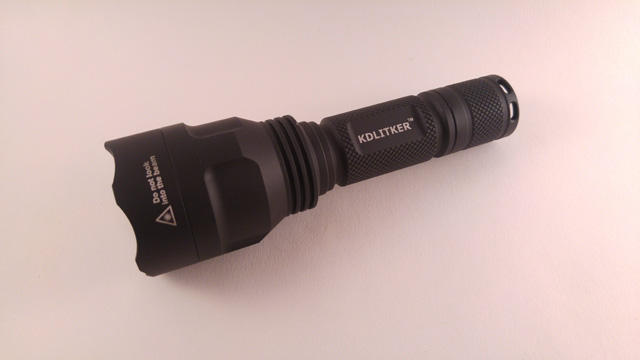 Oerview :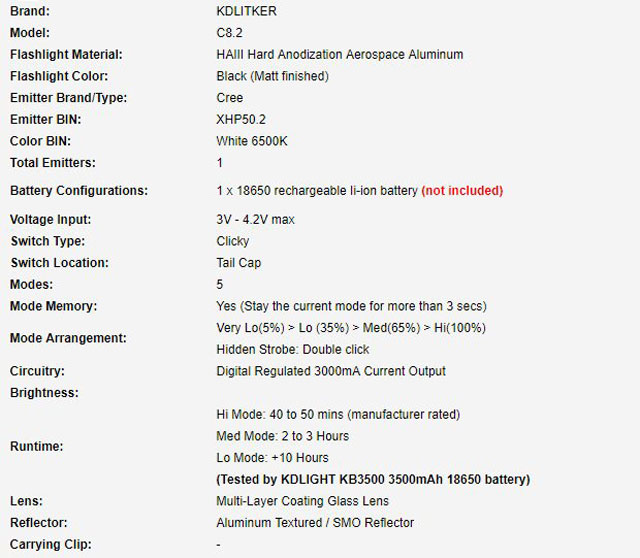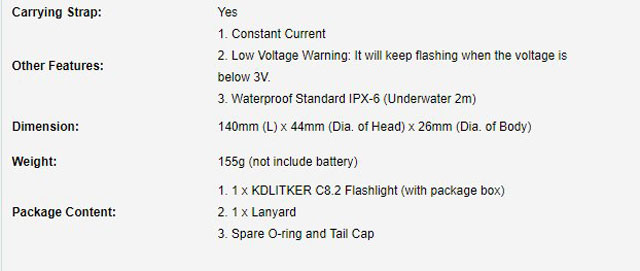 First Look / Unboxing :
Flashlight comes in a simple brown box :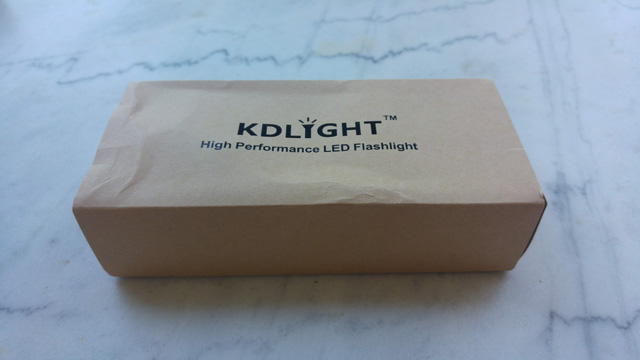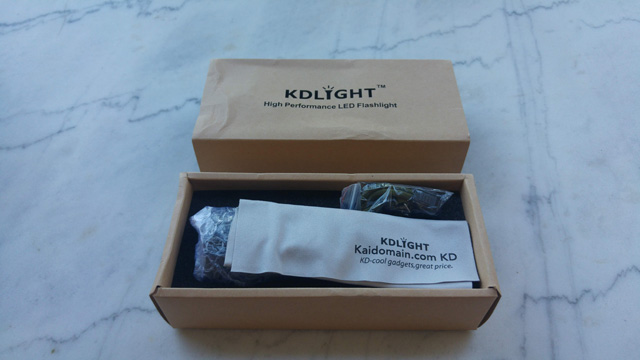 Package Contains :

- Flashlight
- Lanyard
- Spare o-ring
- Gitd tailcap boot
- Soft cleaning cloth
Extended View :
The flashlight itself :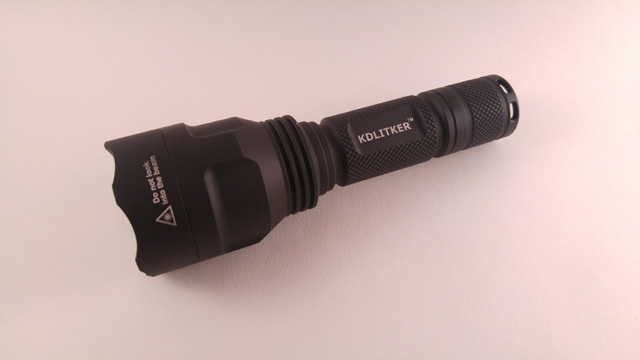 As you can see , it is a classic C8 styled flashlight . Here are some more photos :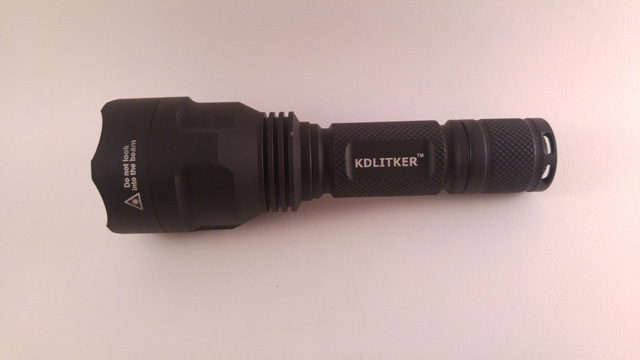 It has KDLITKER logo on one side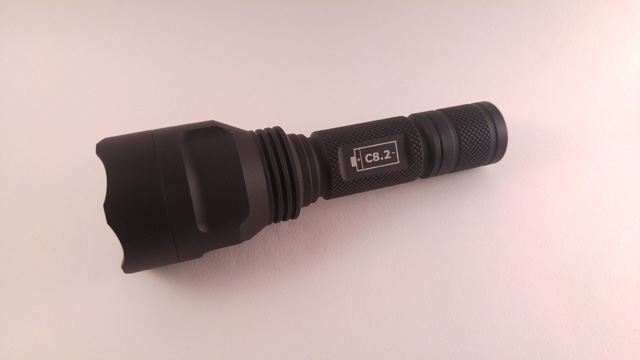 And the C8.2 on the other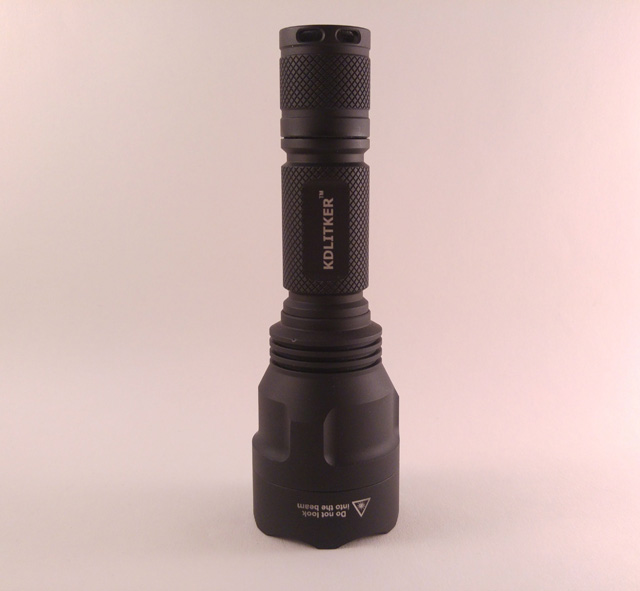 Anodizing is matt , and has a nice feel…
It's head , with great machining and some cooling fins :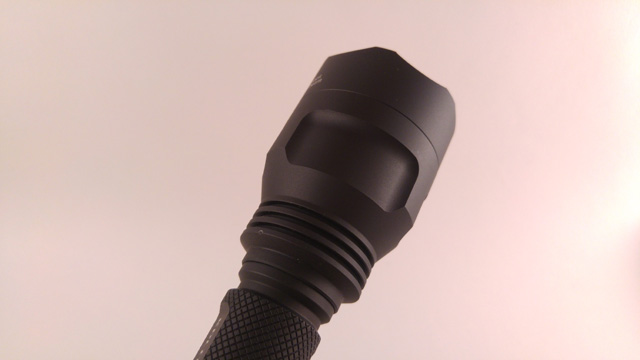 It has a little "Warning" logo on the head . I find it funny , if you think that it is on a flashlight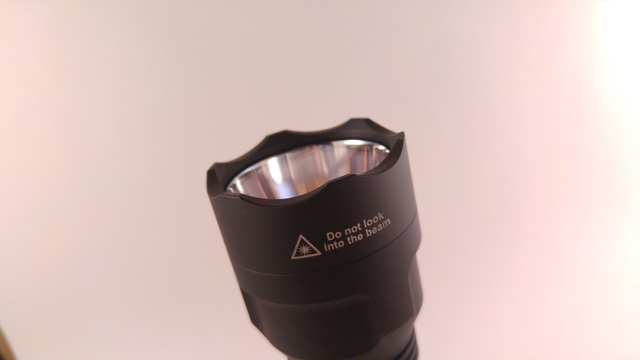 Notice the nice crenelated bezel too
Here we can see the SMO reflector and the nicely centered LED (xhp50.2) :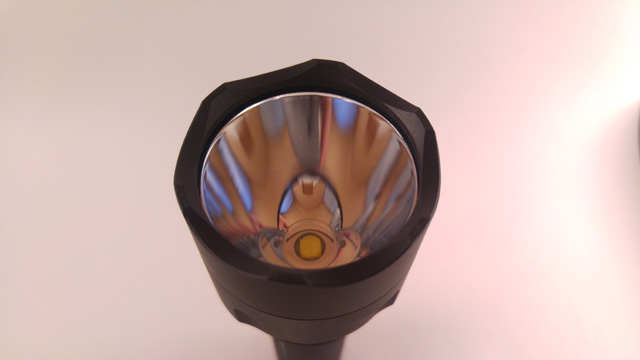 One more photo coming soon , sorry
The tube . Very smooth knurling , and nice machinng also here :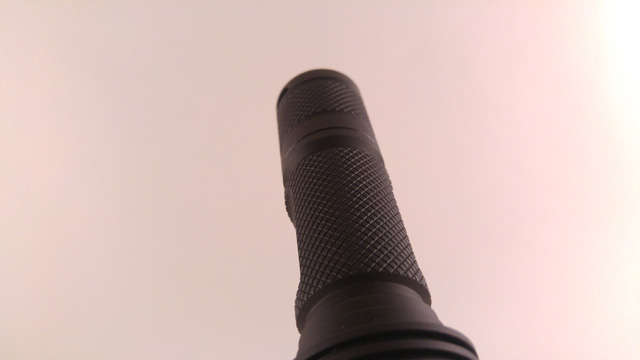 The tailcap . It has holes for lanyard and has the rubber boot "protected" (not protruding) :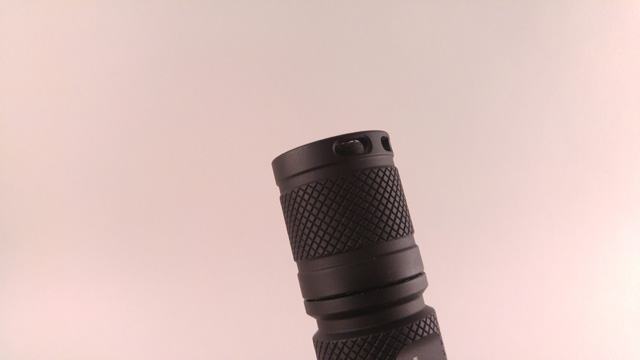 Tailcap's rubber boot :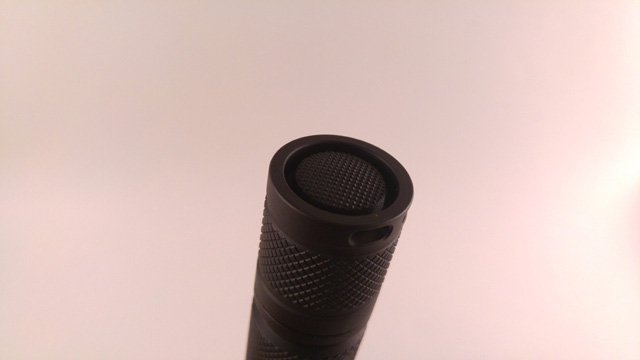 And the tube's threads , on the tailcap side . Anodized , well machined :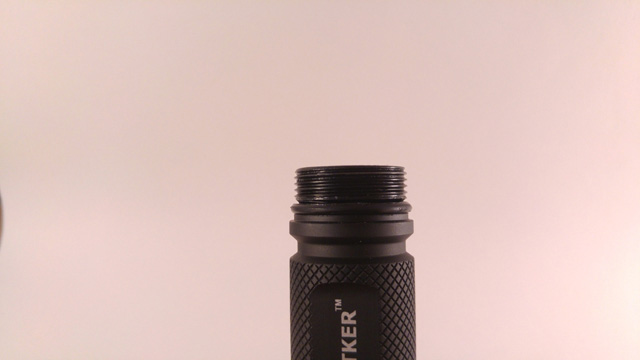 The other side has bare non-anodized threads for better electrical connection
The visible part of the pill , with the driver and it's spring (+) :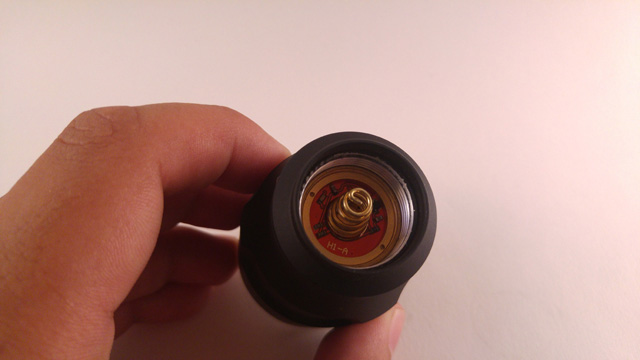 A button top battery has a good fit , even if it seems to be protruding a lot because of the long driver's spring (it compresses nicely)
A quick teardown :
Head , tube , tailcap :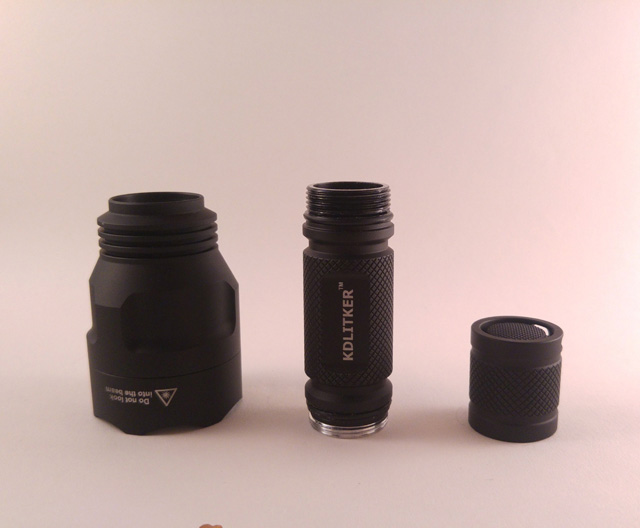 As someone can notice , on one of the tube's "end" (flashlight's head side) it has only 2-3 full threads , but connection between body and tube is very solid
Switch's spring :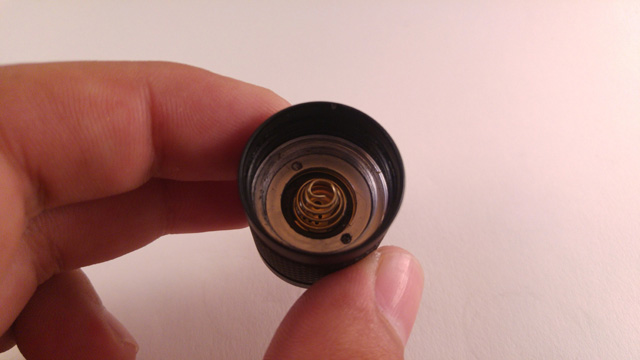 And the switch assembly . It has the classic little reverse-clicky Omten switch: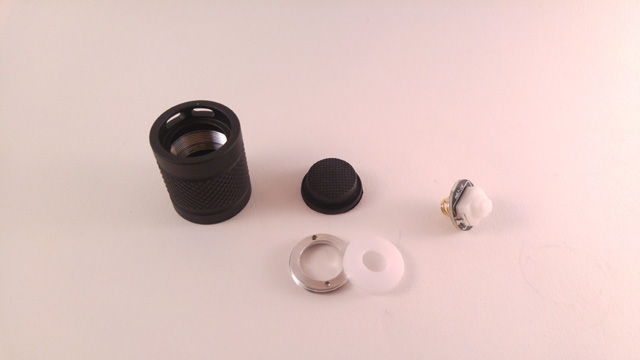 Head assembly :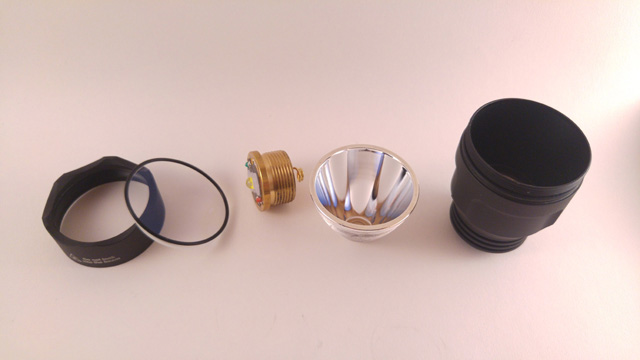 Pill made from brass , with the xhp50.2 on 20mm KD DTP copper board :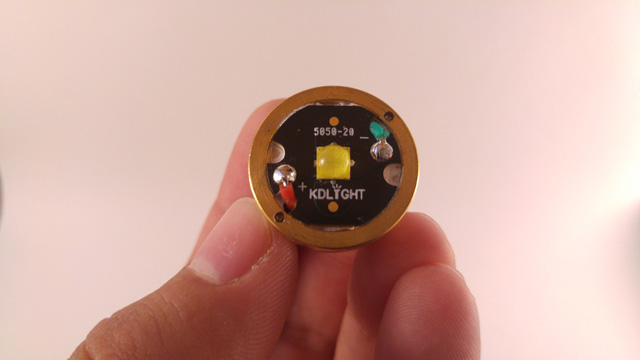 And with the centering ring on :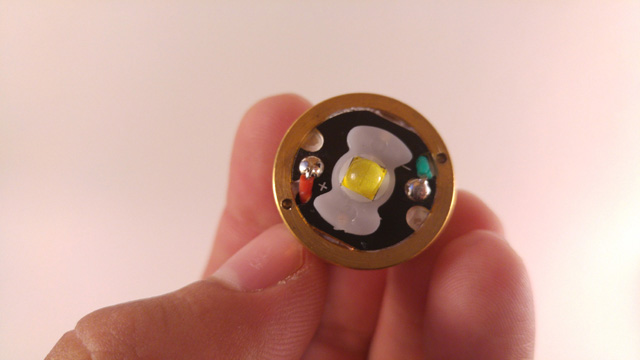 Bottom side , with the driver held by a retaining ring :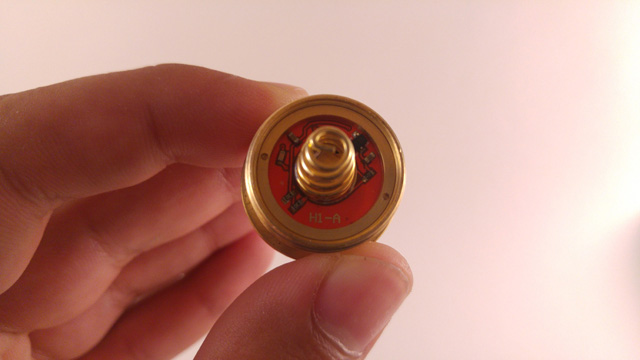 Pill accepts 20mm driver and driver installed is H1-A (CDM-B50)
Modes and driver info :
Driver is the H1-A (CDM-B50) boost driver . Here are some info :
Input Voltage: 3V – 4.2V
3 Volts is the cut-off voltage , the LVP kicks in
Output Voltage: 6V – 6.8V max.
Output Current: 2900mA – 3000mA max.
Modes: Very Lo(5%) > Lo(35%) > Med(65%) > Hi(100%) + Hidden Strobe: Double Click
Features :
1. Constant Current, No PWM
2. Low Voltage Warning: When voltage is below 3V, it will keep flashing.
3. Memory function : ( On for > 3 secs)
Notes: 1. The driver does not have battery reverse protection. Please make sure the battery is connected in the correct way (positive end on the head side) . 2. The max current from battery can be up to max. 8A, high drain battery is recommended for this driver.
Measurements :
Battery used in all measurements : Sanyo NCR18650GA 3500mAh
Amperage draw (Measured on the tail , with UT139 clamp meter) :
Very Low : 15 mA
Low : 0.365 A
Med : 1.3 A
Hi : 4.7 A
Lumens (measured in diy lightbox) :
Very Low : 9.2 lumens
Low : 240 lumens
Med : 765 lumens
Hi : 2040 lumens (Theoretical value is 2120 lumens for xhp50.2 at 3amps)
Current @ the emitter will be updated soon
Intensity on highest setting : 32.2 kcd
Beamshots section :
Here are 2 quick beamshots , more coming tomorrow !
Low :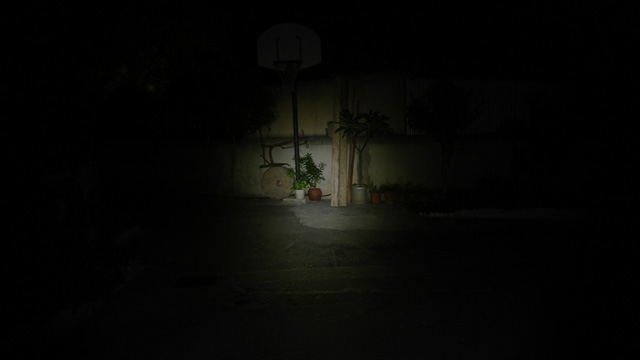 High :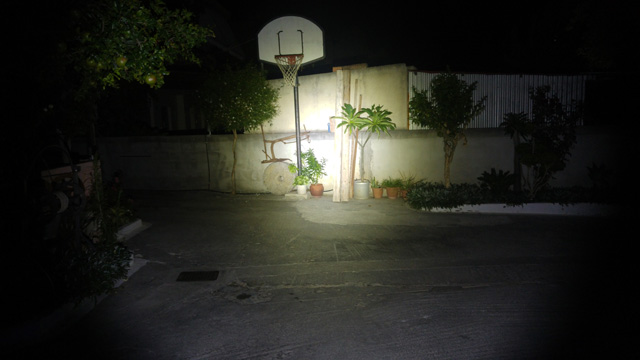 Camera shows the corona a bit more yellow than it really is…
Here are some better beamshots finally !
Control shot :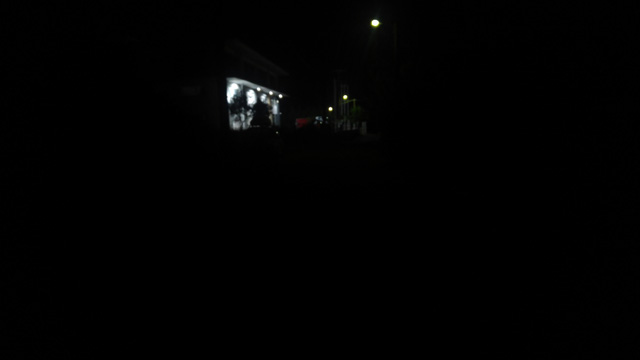 Low :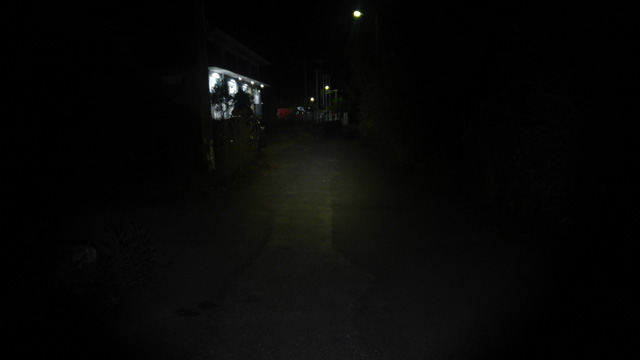 Mid :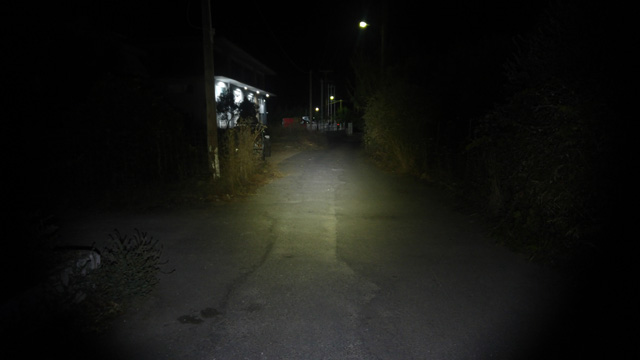 High :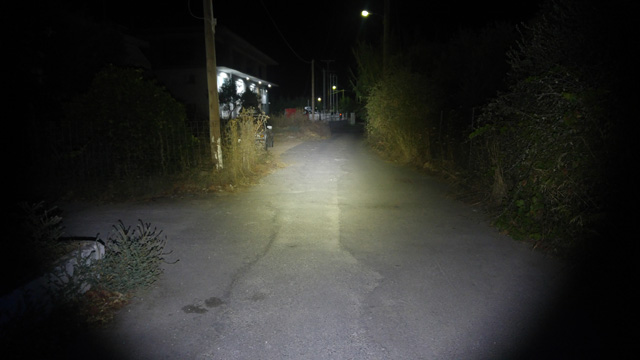 As you can see hotspot is pretty big … Output on high is impressive , 2k lumens reaching a great distance!
Runtimes :
High mode (referred as Turbo) :
A few words :
Very nice option for those who want a bright C8 , with big hotspot for less throw . Build quality is excellent , and overall it is an excellent flashlight !
Flashlight was provided by Kaidomain for review purposes . You can find this flashlight http://kaidomain.com/Led-Flashlights/kdlitker-flashlights/KDLITKER-C8_2-Cree-XHP50_2-2600-Lumens-5-Mode-LED-Flashlight-Black
Reviewer: giorgoskok @ BLF
Source: http://budgetlightforum.com/node/55636